To create a Facebook quiz follow these instructions:
1) Create a facebook quiz using the quiz creation form
2) Locate the quiz  in the dashboard
3) Click the "Share & Embed" button, and then the "Link" tab
4) Copy the link and paste it into your Facebook stream or/and to your messenger channel
You're done!

Here's an example of a Facebook Quiz on desktop & mobile: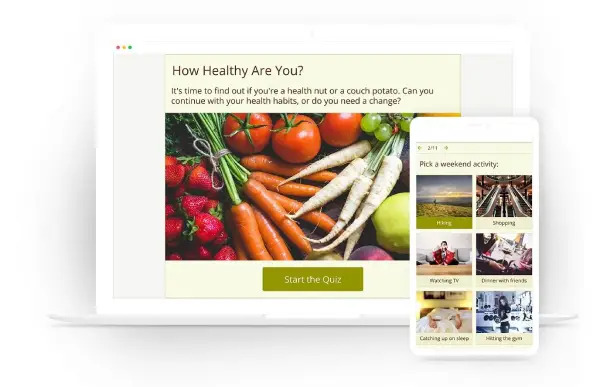 Here is a live example of a Facebook Quiz, try it out!
Best practices for creating a Facebook Quiz:
1) Select a good title – the question is probably the one single most important part of a quiz. Select an engaging and appealing question that arouses curiosity
2) Quiz length – Make your quiz long enough to be effective, but not too long.  We usually recommend to include between 5 and 15 questions in the quiz.
3) Add visuals– Images and videos make your quiz successful. They grab attention faster and encourage users to take part in the quiz
4) Promote sharing – add an explicit call to action to your users to share the quiz after it is completed. You can allow them to optionally share the score or result they got in the quiz
5) Keep the result positive – users like to get positive feedback, so even if they didn't get a lot of the questions correct, or got a result that might not be viewed as favorable, keep a positive tone 
6) Add humor – whenever possible, try to add humor to the questions and results, that always improves the chances the facebook quiz will be shared
Learn more about our Quiz Maker
Top reasons to create a Facebook quiz
1) Boost engagement – the question is probably the one single most important part of a quiz. Select an engaging and appealing question that arouses curiosity
2) Drive traffic from social shares – the question is probably the one single most important part of a facebook quiz. Select an engaging and appealing question that arouses curiosity
3) Gather leads – generate leads by integrating a lead form inside the quiz. This will product highly qualified leads,  since you will be able to gather leads that are associated with the answers the participants gave in the quiz
4) Drive sales – if you are selling a product or service, you can use the facebook quiz to create a product selector that will offer the users the product/service that fits them the most based on their answers
5) Educate – quizzes are a great way to educate since they are highly engaging and memorable