Integrating Opinion Stage polls in your content is an excellent way to boost engagement, gain more traffic, and learn what your users think. All you need to do is come up with a relevant question and a few answers, add an image or video, and you're set to go. It can take as little as 2 minutes to create your first poll.
Increase participation & sharing
Polls typically get fantastic participation rates. Some strategies you can use to increase participation:
1) Select the right questions – Crafting questions that reveal something meaningful about the person that answers them (his opinions, preferences, etc.), increases participation & social sharing. Keep the questions and answers short, so they are easily grasped.
2) Hide results – An effective strategy you can use to get people vote in online polls, is to hide the results and reveal them to the user only after they've voted (this is the default option with Opinion Stage polls).
3) Add an incentive – It's a good idea to create contests/competitions in which a prize is given out to a selected number of participants in the poll. Click here to read more about competitions.
Track results
The Opinion Stage statistics dashboard lets you track real-time metrics such as votes and timestamps, as well as the engagement rates of your poll. You can then use that to help optimize the questions in your polls for better performance.
Gather leads
Polls are often used as lead magnets. You can embed them in almost any kind of content to increase your engagement rates significantly. Click here for more information on generating leads.
Blocking repeat voting
There are some cases where you may be concerned about users abusing the poll system and voting multiple times in the same poll. If that happens, you can use various blocking options on Opinion Stage to prevent repeat voting. Opinion Stage also gives you the option to export all your vote results so you can verify whether there are any patterns of cheating.
Click here for a detailed poll creation tutorial.
Example:
Click the following image to view an example of an anonymous voting poll: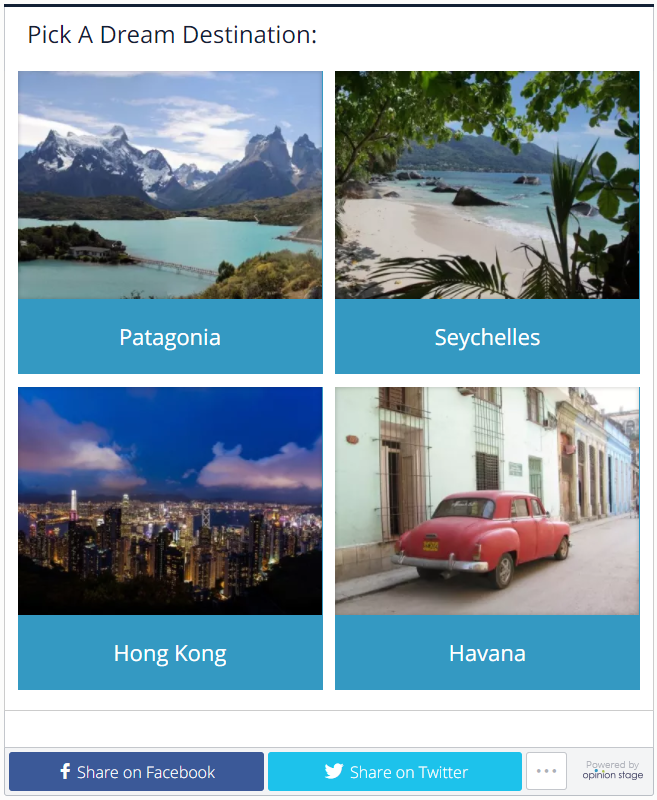 Click the following image to view an example of social profile based voting:
For more information, check out the Poll Maker product page